OUR EXPERTISE
"THE FLEXIBLE MOLDS"

CHEF, PASTRY CHEF, OR BAKER ARE MORE THAN JUST JOBS. THESE ARE PASSIONS WHERE PLEASURE IS A VOCATION.
FLEXIPAN® is a mark for premium products since its creation, and produces superiority in the service of culinary excellence.
Chefs from all over the world have always been our first ambassadors.
Their imagination is our first source of inspiration.
They create, we invent …
They perfect, we optimize…
They dream, we anticipate …
Their challenges are ours and our solutions are theirs; to offer the same emotion and pleasure that they reserve for their customers.
With FLEXIPAN®, passion has no limits.
Demarle revolutionized the world of baking by inventing FLEXIPAN® ORIGINE! Today, FLEXIPAN® ORIGINE is the benchmark for flexible molds and is one of the bestsellers of equipment for professionals in the catering trade. FLEXIPAN® ORIGINE is the ideal partner thanks to high-end raw materials (its internally formulated silicone and high-performance knitted fabric), high quality French manufacturing, and of course thoughtful products that are designed for its users. Thus FLEXIPAN® ORIGINE supports you in any sweet or savory creation and achieves excellence!
Each creation and each recipe has its own flexible mold !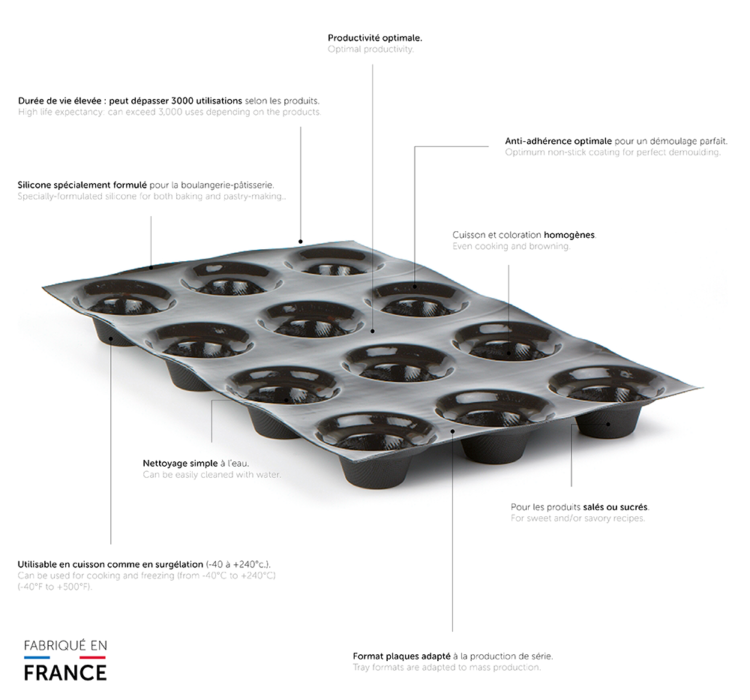 SPECIFIC SILICONE MOLD WITH FIBERGLASS
– Unique knitted glass texture coated with silicone.
– Flexible structure which allows easy demoulding.
– Unique silicone, specially formulated for baking
– Reduced silicone thickness for optimal heat distribution.
– Fiberglass knitting which provides ultimate mold support.
You can find these characteristics in all FLEXIPAN® ORIGINE and FLEXIPAN® AIR molds
100% SILICONE MOLD
– Ultra-Resistant silicone which does not deform over time
– Precise, complex shapes, with protruding edges and branded patterns possible
– Suitable for automatic and manual demolding
You can find these characteristics in the FLEXIPAN® INSPIRATION molds.

The Original flexible mold is FLEXIPAN® ORIGINE! One of a kind, FLEXIPAN® ORIGINE has been recognized for almost 30 years by all professionals in the catering trade.
The FLEXIPAN® ORIGINE technology remains unique; often copied but never equaled. The combination of knitted fiberglass and food-safe silicone gives it superior strength and longevity and proven non-stick qualities. The FLEXIPAN® ORIGINE makes it possible to achieve the very large majority of usual freezing and baking operations in pastry, bakery and catering in the most efficient way. No need to grease the molds. FLEXIPAN® ORIGINE gives a shiny and smooth appearance to products and ensures perfect release
Demarle® has developed a range of more than 500 shapes which are available in different formats to satisfy all professional uses. Tray sizes available: 800x600mm / 800x400mm / 600x400mm / 400x300mm / 300x200mm.

Cutting-edge since its creation, the mold FLEXIPAN® AIR has become an essential ally in the bread-making and bakery industry. Ideal for producing calibrated products, it offers its best assets during cooking.
FLEXIPAN® AIR is a range of flexible two-component silicone and glass knit molds suitable for bread making and baking. They have a perforated texture which ensures optimal heat circulation to obtain a crispy finished product and a perfect color.
Non-stick, FLEXIPAN® AIR molds are very resistant, up to 3000 cycles without any risk of losing the non-stick properties.
The perfect non-stick qualities and resistance of FLEXIPAN® AIR molds in baking up to +240 ° C (500F) as well as deep-freezing up to -40 ° C is also suitable for frozen raw products.
Thanks to the use of FLEXIPAN® AIR, the products have the advantage of being perfectly calibrated and consistent (size, color and crisp). The large variety of proposed forms makes it possible to have a varied and creative snacking offer. Round rolls or square buns will ideally meet the needs of hotels and restaurants.

The FLEXIPAN® INSPIRATION range is the high-performance solution for all complex, innovative or tailor-made shapes.
A new source of inspiration for all your achievements. Unconstrained innovation is now possible thanks to the FLEXIPAN® INSPIRATION range.
Whether you are an artisan, caterer, restaurateur or ice cream maker, all solutions for your needs can be tailor-made thanks to our unique technology and high-performance silicone which is specially developed for food service applications.