THE HISTORY OF SILPAT® BEGINNING IN 1965
When Mr. Guy Demarle, an experienced French baker, set out to develop a better way to prepare and cook baguettes.
His invention, a new baking mat, sparked a revolution among baking professionals. And he quickly acquired the reputation of making the best baguettes in France.
Guy Demarle called this mat SILPAT® because of the unique silicone formulation used and the manufacturing process using a canvas.
Its non-stick silicone mat has become the first model of all SILPAT ® products used in professional kitchens around the world today. Thanks to him, our range of mats and molds makes all types of cooking cleaner, faster, easier and allows more regular results.
Today, a brand of the Sasa-Demarle group, SILPAT® is still the international benchmark in the pastry and bakery industries.
Of course, our revolutionary methods will not stop there. We will continue to develop products that enhance the experience of organizing, preparing, baking and baking – for amateurs and professionals.
And with all of our services and collaborators, we want to make sure that in addition to being the chef's best friend, our products are also environmentally friendly.
Each SILPAT® mat and mold proudly bears the "Made in France" stamp as a guarantee of quality and an imperishable tribute to the French baker who launched the revolution.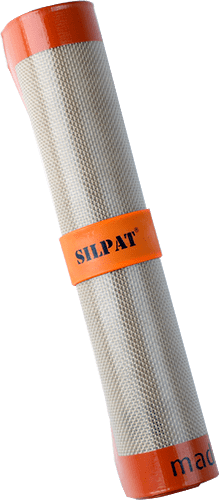 WHAT MAKES SILPAT® SO GOOD?
Stamped and durable!
The edging protects the integrity of the mold
Additional silicone coating for easy release and successful shape
Unique silicone made in France
Precision shaped mold using advanced technology
Unique knit and canvas texture
KEY BENEFITS OF SILPAT®
Professional results at home
Easy to use and fill
Healthy and fast preparation: no greasing required
Easy to cook: regular and perfect cooking results
Easy to unmold: the forms are molded perfectly without breaking
Easy to clean: wash with a soft sponge and soapy water – Dishwasher safe
Unique manufacturing process
Silpat mats and mould – a staple of professional kitchens in France – are now available to enthusiastic home bakers in the US and UK.
They arrive with all the cachet and credibility that French cuisine/culinary products carry.